Newark Family Eye Care would like to inform you that the CDC has officially lifted the ban on routine eye care. We will begin seeing patients for routine eye exams starting on Monday, May 4th, you are able to call and schedule your appointment now. In order to ensure the safety of our patients and staff, we will be complying with all CDC and American Optometric Association requirements and there will be a number of new protocols in place. Prior to arriving at our office, we ask that you perform a self evaluation for any COVID-19 symptoms such as fever, cough, sneezing, or sore throat. If you have any of these symptoms, please call our office to reschedule your appointment.
---
The following are a few changes that you will see at our office:
Please stay in your car and call the office when you arrive in the parking lot. This will prevent patients from congregating in the waiting area.
Per the direction of Governor DeWine, we strongly encourage all patients to wear masks or cloth covering your nose and mouth.
Only patients will be permitted to come into the office. The exception to this would be one parent/guardian with children or essential care takers with disabled patients.
Please call and make appointments for ALL services. This includes the pick up of glasses, and/or adjustments to glasses.
Upon request, we will provide a written statement of
Newark
Family Eye Care's Core Safety Principles for returning to routine eye care.
---
All of our staff members will be wearing masks and disinfecting every surface that patients come in contact with after each patient encounter. We will be wiping down frames that patients have tried on prior to returning them to the optical board. Also, we will be adhering to social distancing guidelines as much as feasibly possible while in the office. Our appointment times will initially be spaced further apart to decrease the amount of traffic through the office.
Health is on the forefront of everyone's mind during these difficult times. As eye care professionals, we understand the importance of routine eye care as it pertains to overall health and well being. We have missed our patients and are eager to see everyone again. We ask that you have patience with our office as we navigate these new protocols and procedures. The safety of our patients, staff and entire community is our top priority!
We will keep you informed as changes occur or as we have news to share. Please feel free to contact us via email at NewarkFamilyEyeCare@gmail.com or phone at 740-366-5050 with any questions or concerns.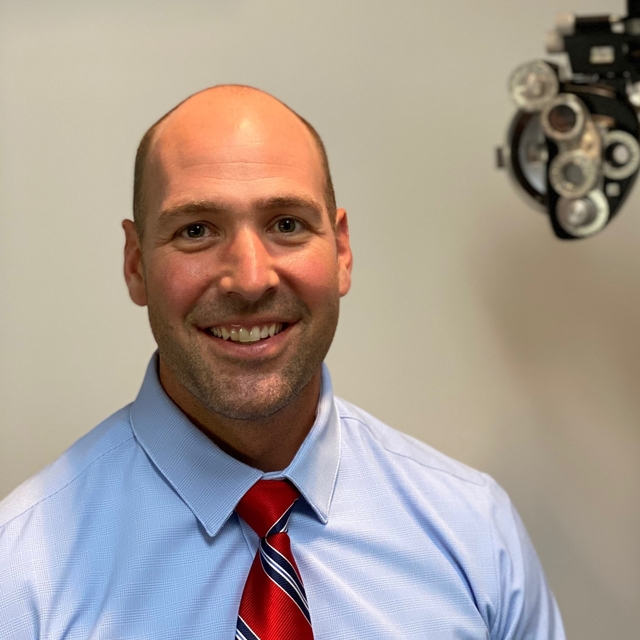 Dr. Joshua Wolf

OD
Dr. Joshua Wolf earned his Bachelor's degree in Aviation Management and Flight Operations from Jacksonville University in Jacksonville, FL. After pursuing his aviation career as a commercial pilot for Comair Airlines, as well as holding positions with Flight Safety International and NetJets Aviation, he decided to pursue further education and become an Optometrist. He completed his pre-requisite coursework and earned his Doctor of Optometry degree from The Ohio State University.
While enrolled at The Ohio State University College of Optometry, Dr. Wolf completed externships at the Chalmers Wylie VA in Columbus, Erdey Searcy Eye Group and Ohio Eye Associates. In addition, Dr. Wolf was the president of his Optometry class through four years of education.
In his spare time he enjoys playing baseball, golfing, traveling, spending time with his dog and is a life-long Chicago Cubs fan. Dr. Wolf looks forward to serving and becoming a part of the Newark community.
Dr. Nicholas Perichak

OD, MS
Dr. Nicholas Perichak earned his Bachelor's degree in Biology with a minor in Business as well as his Doctor of Optometry degree at The Ohio State University. During optometry school, Dr. Perichak completed additional coursework and research to obtain a Master's degree in Vision Science. He has been at our practice since May 2015.
Dr. Perichak is a member of both the American Optometric Association and the Ohio Optometric Association. He has a special interest in diagnosing and managing many types of ocular conditions such as glaucoma, macular degeneration, diabetic eye disease, dry eyes, and fitting both general and specialty contact lenses.
Originally from Amherst, Ohio, Dr. Perichak is an avid Cleveland Browns fan. In his spare time, he enjoys spending time with his wife, Caitlin, and their two pets, Leah and Bella.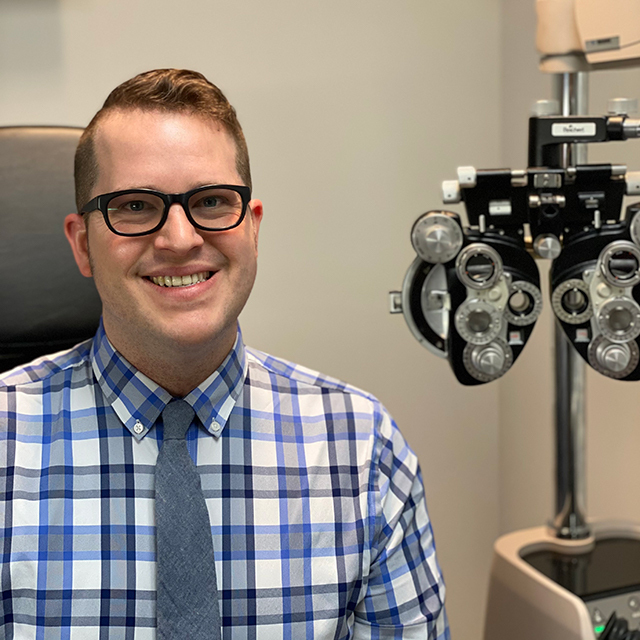 Dr. Scott Hanes

OD
Dr. Scott Hanes received his Bachelor's degree in Visual Communications from Bowling Green State University. After a short period working as a graphic designer and media producer, he decided to pursue optometry. Dr. Hanes earned his Doctor of Optometry degree from The Ohio State University in 2015.
Dr. Hanes completed several externships during his optometric education, which included education and experience in ocular disease, specialty contact lenses, and binocular vision disorders.
As a central Ohio native, Dr. Hanes cheers on the Ohio State Buckeyes. He enjoys traveling with his wife, Jessica, and spending time with his two dogs, Dolce and Coco.